Post by Sentinel on Mar 26, 2017 18:46:17 GMT -6
[attr="class","plbase"]
SPECIES LIST.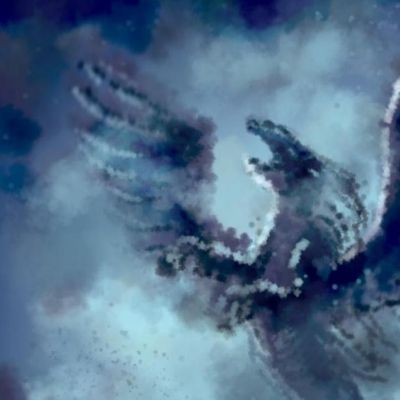 [attr="class","pltxt"]
There are many species for your to choose from. Some are unlimited, but some only a few can play. For each new member (OOC), currency will be given as well as one big and small free item from the shop, whether it is just special accessories or a unique specie.
Magic species leave traces of small specs of light when they use magic. They each of their own color, which will be listed in their ability descriptions.
Humans are free and unlimited!
*Image created by Elen89 on dA
Dragons - 4/15
Dragons are noble and mighty. They can range from the size of an average house to as tall as the Empire State Building. Their front legs have giant, scaly hands with sharp claws, and their back feet are similar to a bird's. Their wings can be half their length or twice as long as their bodies. The tips of their tails can be anywhere from a long, sharp spike to feathers. As eggs, their shell hints at what their scale colors might be.
The most famous dragons of Unum are King Tralon, Queen Marika, and the evil dragon Dinis. There are currently 4/15 dragons taken. You must apply to be a dragon once we reach 5 dragons.
Abilities
Dragons have the ability to breathe fire, fly, and use any type of magic. Most dragons use pure magic, which is fueled by the sun and originates from their horns and (for those who have one) their tail tip. They can use magic to turn into humans.
Their magic color is a bright purple.
Wyverns - 0/7
Wyverns are similar to dragons, but they are smaller and are rarer. There are currently only 12 in existence, but only 7 made it to Earth. They have no front legs, so they rely on the small fingers and claws at the forward bend of their wings and hand-like back feet. They are usually a darker, duller color than their cousins the dragons. They usually pick whichever side that will benefit them the most.
Abilities
Wyverns can also breathe fire and fly, but they have a limited amount of magic. Because of this, and their selfish nature, they are usually called barbaric by the more sophisticated dragons. Their magic is dark gold color.
Chimeras - 2/5
Chimeras are a mix of various animals. They have the front half of a lion, legs of a goat, wings, and the head and body of a snake as their tail. Chimeras are devious creatures who lurk behind corners and watch every little thing with their large, feline eyes. They are the size of a regular lion. Because of their nature, it is hard to tell whether they are on a side other than their own.
Abilities
Chimeras have no magic, but certain breeds have special abilities. They are no unnaturally strong or fast on their legs, but they are quick through the air.
Pegasi - 0/3
Pegasi were once abundant on Earth, but when they announced their loyalty to the humans and eventually Unum, Dinis has hunted them to near extinction. The Queen convinced the few remaining to now stay within the walls of Anfang or with a dragon. They are similar to and slightly smaller than the unicorns, but their feathered wings give them the advantage of flight.
Abilities
Their magic originates from their wings, but they can only do small amounts at a time. If they exhaust their magic, they can die. Their magic is a royal blue.
Unicorns - 0/
Unicorns are very tall and skinny. They are usually about 9 feet tall, and their horns can range from 3 feet to 5 feet long. They can have natural, horse colors, but the purest of hearts have white pelts, manes, and tails. They make up the entirety of the Royal Guard, wearing gold-like armor, the Majors wearing red capes.
The pelt of those who follow Dinis slowly become corrupt, turning into a dark, midnight blue. Their horns fade to black deeper than the night sky.
Abilities
Their magic comes from their horns, and only some have access to it. Only magic users are allowed into the Royal Guard, but anyone can join the knights. They can make things disappear, and, in large groups, can completely obliterate an object. They can make things levitate, but nothing heavier than twice their strength. Their magic is pink.
Dark Unicorns tend to be stronger, but they usually fight alone. Their magic is a mix of pink and black, depending on how corrupted they've become.
Gryphons - 1/
Gryphons are a mix of lions and eagles. They have the body, back legs, and tail of a lion, and the head, wings, and front legs of an eagle. Males have longer feathers on its neck, and females are lither. They had made their home in India, but quickly joined forces with the humans and dragons. Although they are mostly used as aerial scouts and transportation, they are at times used to help clear wreckage in battles and wear silver and steel armor.
Abilities
Gryphons have no magic, but they are eight times as strong as a regular lion. Their vision is twice as powerful as an eagle's.
Gargoyles - 0/
Gargoyles are the most loyal followers of Dinis. They do most of the hard work -- battling dragons, gryphons, and unicorns alike, as well as forming the first wave of an attack on a small settlement. Although they provide the most casualties, they breed and grow quickly. They are ugly, batlike creatures with wings and skin of stone that can only be cut by diamonds and dragon claws. That doesn't mean they can't be pulled apart, though. Most of their spiky teeth are crooked. They are about 6 feet tall, and their gender is hidden under a lump on their lower abdomen, so they do not cover themselves with clothes.
Abilities
These creatures
have]
to use magic in order to get their heavy bodies off the ground. Their magic is sooty and dark like ash.
Goblins - 0/
Like gargoyles, most of their kind are for Dinis. They are strong and make up most of the ground force. They are green and brown and have slimy skin. Their eyes are like a lizard's, and their skin is slimy like a slug. They wear no clothes, and their gender is not obvious to the naked eye. They only grow up to 5 and a half feet tall.
Abilities
They have no special abilities, but they are very strong and quick on their feet.
Cactus Cats - 0/
Cactus cats are the size of bobcats, and they are mostly nocturnal creatures. Their fur is thick and sharp like thorns, and they have longer spikes on their legs and tailtip. They're known for knocking down cacti with their tails. They are very social creatures, and love to join large groups of civilization. They're very protective of their groups.
Abilities
While they have no magical abilities, cactus cats are silent on their feet, quick runners, and strong felines. Their yowls can also be obnoxiously loud and are able to shatter glass.
Manticores - 0/
Manticores are similar to chimeras and gryphons. They have a body of a lion, wings of a bat, and face of a human. Males have long manes, longer than a regular lion. They are usually the size of a liger as well. Among the fur on their tail tip, there are large, sharp spines as well. Manticores prefer to live in prides and are known to stalk humans. It is unsure whether they are a prominent figure among Dinis' army.
Abilities
The spines on their tails can be shot out at their opponents. The tips turn venomous once they are dislodged from the body and leave the victim temporarily paralyzed. They have no magic.
Cerburus - 0/
Cerberus (plural and singular) have large canine bodies with three different breeds as their heads. They are usually the size of a unicorn. The center head is the host head, and their body matches the host. They can have different names for each head or just one name for the entire group. They can be found on either side of the war, and are known to be skilled in combat.
Abilities - 0/
Cerberus have just a slight grasp on magic. Their magic is an ashy emerald.
Ignari - 0/
The ignari, Latin
"ignis"
(fire) and
"venari"
(hunt), are powerful wolves that remain a secret to most of Unum. Not many know that the ignari passed through the divergence, mostly because the crown has designated them as their most elite cavalry of knights. They can be judge, jury, and executioner of those who terrorize Unum in the name of Dinis. Their fur can range from bright white to a shiny gold. It is rare for them to have darker colors, but any bright hue isn't uncommon. Intricate designs and spirals of a different color spread across their flanks and shoulders as well. They stand as tall as the average human male at the shoulder, and their shining, silver armor has built-in blades. Their mouthpiece has a button infused with magic on the roof of their mouth. If they press it, a curved blade is summoned from their holster. Their armor is also infused with magic, making it light as a feather, strong as a dragon's hide, but silent as an owl in flight.
Abilities
These wolves have no true magical abilities, but they can summon a supernatural energy within their chest, right next to their heart. This can give them an extra boost of strength during battles or long sprints. Their energy glows through their markings and leaves a soft glimmering trace of whatever color their markings are.
LAIKA OF ADOXOGRAPHY
[newclass=.pltxt]position: relative; z-index: 200; opacity: 0; transition: all 1.3s ease; -webkit-transition: all 1.3s ease; -moz-transition: all 1.3s ease;[/newclass][newclass=.plbase:hover .pltxt]opacity: .9;[/newclass][newclass=.pltxt::-webkit-scrollbar]width: 5px;[/newclass][newclass=.pltxt::-webkit-scrollbar-thumb]background: #DCDCDC;[/newclass]